Kitchen Design
Visualize your new kitchen remodel project before purchasing appliances, cabinets, paint, counters and flooring.
3D Model Library
Choose from an extensive
built-in library of beds, chairs, couches, appliances, doors, framers and more. You can also import your own 3D models.

Furniture

Appliances

Lighting

Plants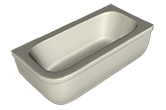 Plumbing
Texture Library
Figure out the color and texture scheme of roofs, walls, floors, decks, fences and more of our built-in texture library. You can also import your own textures.