PhotoPad Photo Editing Software
Edit your photos and images easily
Easy picture enhancing tools for beginners and advanced tools for professionals
Editing ToolsCrop, rotate, resize, flip

Effects & FiltersColor filters, vignette, warp

Creative extrasCollage, embroidery, paint

Retouch ToolsAuto fix, touch up, noise

Clipart LibraryFree clipart library

Drawing and TextCaptions, draw tool, borders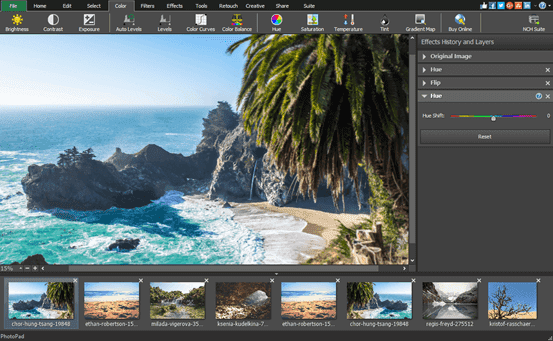 PhotoPad picture editor is the fastest and most fun way to edit your digital photos. PhotoPad is one of the most stable, easy-to-use, and comprehensive photo editors available.

Easily edit digital photos and other pictures
Supports all popular image formats
Crop, rotate, resize and flip photos fast

PhotoPad is designed to be ready to open and edit your photos quickly.




Get it Free. PhotoPad free photo editing software is available for non-commercial use only. If you will be using PhotoPad at home, you can download the free version here. No signup required.

See photo editing software screenshots >>>

Photo Editing Features

Crop, rotate, resize and flip pictures
Touch up photos to remove blemishes and fix color
Improve photo quality and focus with blur, sharpening and noise reduction tools
Adjust the color balance, exposure, levels, brightness, contrast and more
Merge multiple exposures to create stunning HDR photographs
Load JPG, GIF, PNG, TIFF, BMP, and other popular image formats
Resize your image utilizing machine learning and AI for the best quality with super resolution
Change the aspect ratio of an image without distorting key features using the liquid resize effect
Easily undo, re-order and edit existing effects on the layers list using non-destructive editing
Toggle layer visibility to review an edit
Take and edit screenshots of your desktop
Replace green screen photo backgrounds
Automatically add color to black and white photos using machine learning technology with Super Color
Create passport photos with the passport photo tool

Image Editing Features

Apply photo effects, including oil paint, cartoon, vignette, sepia and many more
Create collages and photo mosaics with your photographs
Use preset filters to easily enhance your photos
Convert your photo to cross stitch patterns, paint by numbers or add an oil painting effect
Add text and captions to photos to post online, add to photo books or to create a new viral meme
Insert clipart from the included clipart library
Add frames and borders around your photographs
Upload edited pictures directly to Twitter, Flickr, Dropbox or Google Drive
Adjust the opacity of a layer to finesse an edit
Use censor effect to hide or blur faces or text
Create and edit thumbnails for YouTube videos and social media stories
Add effects and filters in a couple of clicks
Brightness and Contrast
Sometimes photos turn out either too bright or too dark. The Brightness and Contrast tools let you make simple adjustments to the tonal range of an image.
Resize and Crop
Use the Crop tool to make a rectangular photo square or to focus on one portion of your photograph. It's also easy to resize your photo for the web or for print using the resize tool.
Regional Effects
Regional Effects is a powerful tool which gives you the ability to apply effects and filters to selected portions of your photo. Select a part of your image and apply an effect or use the paint brush to paint an effect onto part of your picture.
Background Replacement
Use Selection and Background tools to replace the background in your photos with transparency, color or another image.
Resize with Super Resolution
PhotoPad uses AI and Machine Learning when resizing your pictures to a higher resolution. Upscale your pictures while maintaining dazzling image quality. Enhance photo size and resolution.