Disketch Disc Label Software
Create CD/DVD labels and covers
Design and print CD and DVD labels on Windows or Mac.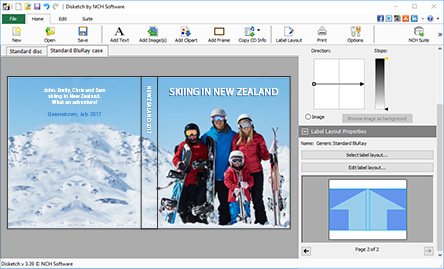 Design and print CD and DVD labels on Windows or Mac.
Quickly create professional labels and covers
Personalize labels with your own photos and artwork
Easily arrange and format label images and text
Use Disketch Label Maker to
create CD and DVD labels
as well as cover images for jewel cases. You can import your own artwork, or set a simple background color and organize artist information along with track lists.

Select Template

Personalize

Print
Disc Labeling Features

Create CD, DVD or Blu-Ray disk labels
Import your own photos to create personalized disc backgrounds and covers
Change the background color of the disc

Add Text to CD and DVD Labels

Easily move and layer text and images to design labels
Choose from a variety of text styles
Easily format, resize and align your text
Import track names directly from a CD in your disc drive
Easily organize your CDs & DVDs with consistent covers and labels

Quick Printing Features

Print on sticky labels,
or directly onto printable discs

Make your discs stand out from the crowd!

This user friendly CD label maker lets you put your own personal touch on your CDs and DVDs.
System Requirements

Windows XP/Vista/7/8/8.1/10
Mac OS X 10.5 or above

Download Disketch Label Maker Software

Purchase Disketch Label Maker